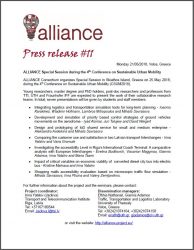 Monday 21/05/2018, Volos, Greece
ALLIANCE Special Session during the 4th Conference on Sustainable Urban Mobility
ALLIANCE Consortium organizes Special Session in Skiathos Island, Greece on 25 May 2018, during the 4th Conference on Sustainable Urban Mobility (CSUM2018).
Young researchers, master degree and PhD holders, post-doc researchers and professors from TTI, UTH and Fraunhofer IFF are expected to present the work of their collaborative research teams. In total, seven presentations will be given by students and staff members:
Integrating logistics and transportation simulation tools for long-term planning – Ioannis Karakikes, Wladimir Hofmann, Lambros Mitropoulos and Mihails Savrasovs
Development and simulation of priority based control strategies of ground vehicles movements on the aerodrome – Iyad Alomar, Juri Tolujew and David Weigert
Design and prototyping of IoD shared service for small and medium enterprise – Aleksandrs Avdeikins and Mihails Savrasovs
Comparing the customer use and satisfaction in two Latvian transport Interchanges – Irina Yatskiv and Vaira Gromule
Investigating the accessibility Level in Riga's International Coach Terminal: A comparative analysis with European Interchanges – Evelina Budilovich, Vissarion Magginas, Giannis Adamos, Irina Yatskiv and Maria Tsami
Impact of critical variables on economic viability of converted diesel city bus into electric bus – Kristine Malnaca and Irina Yatskiv
Shopping malls accessibility evaluation based on microscopic traffic flow simulation – Mihails Savrasovs, Irina Pticina and Valery Zemljanikins.
For further information about the project and the seminars, please contact:
Project coordinator:
Dissemination managers:
Irina Yatskiv (Jackiva)
Transport and Telecommunication InstituteRiga, LatviaTel: +37167100544Email: Jackiva.I@tsi.lv
Eftihia Nathanail, Giannis Adamos

Traffic, Transportation and Logistics Laboratory

University of Thessaly

Volos, Greece

Tel: +302421074164, +302421074158

Email: enath@uth.gr, giadamos@civ.uth.gr

or visit the website: https://alliance-project.eu/