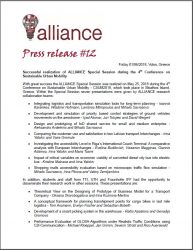 Friday 01/06/2018, Volos, Greece
Successful realization of ALLIANCE Special Session during the 4th Conference on Sustainable Urban Mobility
With great success the ALLIANCE Special Session was realized on May 25, 2018 during the 4th Conference on Sustainable Urban Mobility – CSUM2018, which took place in Skiathos Island, Greece. Within the Special Session seven presentations were given by ALLIANCE research collaboration teams:
Integrating logistics and transportation simulation tools for long-term planning – Ioannis Karakikes, Wladimir Hofmann, Lambros Mitropoulos and Mihails Savrasovs
Development and simulation of priority based control strategies of ground vehicles movements on the aerodrome – Iyad Alomar, Juri Tolujew and David Weigert
Design and prototyping of IoD shared service for small and medium enterprise – Aleksandrs Avdeikins and Mihails Savrasovs
Comparing the customer use and satisfaction in two Latvian transport Interchanges – Irina Yatskiv and Vaira Gromule
Investigating the accessibility Level in Riga's International Coach Terminal: A comparative analysis with European Interchanges – Evelina Budilovich, Vissarion Magginas, Giannis Adamos, Irina Yatskiv and Maria Tsami
Impact of critical variables on economic viability of converted diesel city bus into electric bus – Kristine Malnaca and Irina Yatskiv
Shopping malls accessibility evaluation based on microscopic traffic flow simulation – Mihails Savrasovs, Irina Pticina and Valery Zemljanikins.
In addition, students and staff from TTI, UTH and Fraunhofer IFF had the opportunity to disseminate their research work in other sessions. These presentations are:
Theoretical View on the Designing of Prototype of Business Model for a Transport Company – Oksana Skorobogatova and Irina Kuzmina-Merlino
A conceptual framework for planning transhipment points for cargo bikes in last mile logistics – Tom Assmann, Evelyn Fischer and Sebastian Bobeth
Development of a smart picking system in the warehouse – Raitis Apsalons and Genadijs Gromovs
Performance Evaluation of GLOSA-Algorithms under Realistic Traffic Conditions using C2I-Communication – Michael Kloeppel, Jan Grimm, Severin Strobl and Rico Auerswald
Applying unsupervised and supervised machine learning methodologies in social media textual traffic data – Konstantinos Kokkinos, Eftihia Nathanail and Elpiniki Papageorgiou
A thorough review and analysis of journey planners – Dimitrios Sourlas and Eftihia Nathanail
The contribution of open big data sources and analytics tools to sustainable urban mobility – Stavros Samaras-Kamilarakis, Petros Angelos Vogiatzakis, Eftihia Nathanail and Lambros Mitropoulos
Connected and autonomous Vehicles – Legal issues in Greece, Europe and USA – Εlissavet Demiridi, Pantelis Kopelias, Eftihia Nathanail and Alexander Skabardonis
Investigating the role and potential impact of social media on mobility behavior – Maria Karatsoli and Eftihia Nathanail
Campaigns and awareness-raising strategies on sustainable urban mobility – Vissarion Magginas, Maria Karatsoli, Giannis Adamos and Eftihia Nathanail
Assessing traffic and environmental impacts of smart lockers logistics measure in a medium-sized municipality of Athens – Vasileios Kiousis, Eftihia Nathanail and Ioannis Karakikes
Does the implementation of urban freight transport policies and measures affect stakeholders' behavior? – Eftihia Nathanail, Giannis Adamos, Ioannis Karakikes and Lambros Mitropoulos
Urban traffic management utilizing soft measures: A case study of Volos city – Maria Karatsoli, Ioannis Karakikes and Eftihia Nathanail.
The members of the ALLIANCE Consortium also had the opportunity to attend the conference's keynote speakers' session, where three very interesting and inspirational presentations were given:
 A Geospatial Perspective on Sustainable Urban Mobility in the Era of Big Data – Prof. Bin Jiang, University of Gävle, Sweden
Exploring social and economic implications of big data for mobility – Prof. Piyushimita Thakuriah, University of Glasgow, United Kingdom
ECO Driving: Strategies and Impacts – Prof. Alexander Skabardonis, University of California, Berkeley.
Lastly, on May 23, 2018 and before the beginning of CSUM2018, the 5th Project Management and Work Package meeting was held in Skiathos. The meeting was attended by representatives of the three entities of ALLIANCE consortium and by Dr.Sc.Ing Vaira Gromule, who is a member of the Scientific Excellence and Innovation Assurance Panel (SAP) of the project.
For further information about the project and the seminars, please contact:
Project coordinator:
Dissemination managers:
Irina Yatskiv (Jackiva)
Transport and Telecommunication InstituteRiga, LatviaTel: +37167100544

Email: Jackiva.I@tsi.lv

Eftihia Nathanail, Giannis Adamos

Traffic, Transportation and Logistics Laboratory

University of Thessaly

Volos, Greece

Tel: +302421074164, +302421074158

Email: enath@uth.gr, giadamos@civ.uth.gr

or visit the website: https://alliance-project.eu/