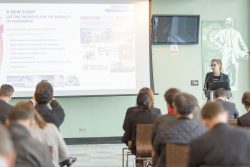 Ms. Evelīna Budiloviča, the winner of the ALLIANCE Scientific Excellence Award 2018 attended the 2018 Polis Conference on 22 and 23 November 2018 which took place in Manchester.
Polis Conference is an annual conference for representatives of municipalities and regions, which provided an opportunity for them to showcase their transport achievements to a large audience and for the wider transport community to engage with representatives of city and regional authorities on innovative transport solutions.
This year the theme of the Conference was Innovation in Transport for Sustainable Cities and Regions.
The opening and closing plenary sessions focus on the European, urban and regional policy dimensions of a sustainable urban and regional transport system. They feature high level speakers such as deputy mayors from cities and regions, European Commissioners, Directors and MEPs, directors from international organisations, research and industry. The technical parallel sessions feature in-depth presentations and discussions on urban transport solutions selected through an open call in view of their degree of innovation and their ability to meet the sustainable mobility policy needs of cities and regions. Participants include members of Polis, i.e. transport practitioners and policy makers of local and regional authorities from across Europe; transport professionals and decision makers from other public authorities; representatives of the transport industry, transport researchers & consultants; and high-level representatives and experts from the European institutions.
More information about the Polis conference: https://www.polisnetwork.eu/2018conference