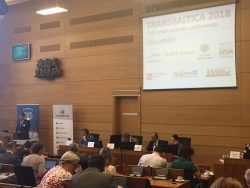 TTI researhers Prof. Irina Yatskiv (Jackiva) and Dr. Genadijs Gromovs took part in the XXI International conference "TransBaltica 2018", which was held  on May 31 in the premises of the Riga City Council.
The conference was opened by the Minister of Transport of the Republic of Latvia Uldis Augulis with the presentation "Transport sector in Latvia and its development prospects".
Key issues that were discussed at the conference concern EU Development of Trans-European Transport Networks (TEN-T) corridors and related challenges: digitalisation, alternative fuels availability and the place of Latvia in these processes (http://www.rmsforum.lv/en/event/158)
The participants' auditorium of TransBaltica 2018 were representatives of the Ministry of Transport of the Republic of Latvia, The Parliament of the Republic of Latvia, PricewaterhouseCoopers, VYGON Consulting, Latvian Railway, Ventspils nafta terminals (VNT), Baltijas Ekspresis, Riga International Bus Station, BDO Latvia, EVR Cargo, Embassy of the Republic of Estonia in Latvia, Freeport of Riga Authority, Atlas RFK, Liepaja Special Economic Zone, LatRailNet, BaltMarketConsult, Schenker, Latvian Transit Business Association, Latvian Aviation Association, Ernst & Young Baltic, LDZ Loģistika, Ventspils Freeport Authority, etc.