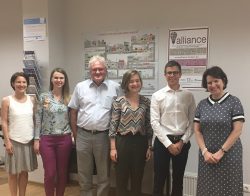 On May 30, 2018, Transport and Telecommunication Institute represented by Prof. I. Yatskiv and Ms. K. Malnaca, in collaboration with the International Transport Forum (ITF), organized a discussion about road safety governance in Riga, Latvia.
The key objective of the discussion was to understand the level of road safety in Riga, as well as to identify specific governance arrangements, policies and actions taken at a local level to improve road safety performance.
Representatives from Riga City Council Traffic Department and Road Traffic Safety Directorate explained their roles and responsibilities regarding road safety related issues in the city of Riga. The participants exchanged their views on the existing transport policy and future infrastructure investment plan focusing on improving access, safety and quality of life in urban areas.
This event was a part of Access and Safety in European Cities project carried out by ITF with the support of the European Commission.