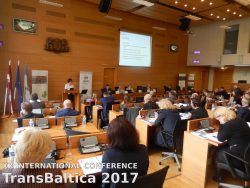 On 25 – 26 May, 2017 the project coordinator of the ALLIANCE project Prof. Irina Yatskiv (Jackiva) took part in 20th International Conference TransBaltica 2017, Riga, Latvia. The aim of the conference was to unite decision-makers, industry representatives, public sectors and academia to discuss significant issues of the transportation in the Baltic Sea region.
Prof. Irina Yatskiv (Jackiva) made a presentation regarding "Education – knowledge – innovations. Challenges and solutions for the transport industry (ALLIANCE EU Project)".
The presentation raised a great interest from participants and a lot of questions were addressed to Prof. Irina Yatskiv (Jackiva) regarding project's implementations as well as the opportunity to take part in project events.