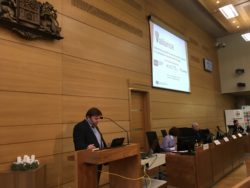 On 14th December, 2016, Road Transport Administration Ltd., Latvia's Employer's Confederation, JSC Riga International Coach Terminal, LDZ Apsardze Ltd. and Transport and Telecommunication Institute (TTI) supported by the Riga City Council, organized the 2nd Workshop on "Social and physical safety of passengers on public transport and transport infrastructure". The 1st workshop took place in TTI's premises in June, 2014.
This time the workshop was accommodated by Riga's City Council and was attended by over 100 people from the transport sector in Latvia (representatives of government structures, educational institutions, carriers and security companies).
The main objective of the workshop was to familiarize the participants with the current situation in the field of passengers' safety in public transport in Latvia. Within the workshop, which was moderated by TTI's researcher Kristine Malnacha, a presentation entitled "Enhancing excellence and innovation capacity in sustainable transport interchanges" was given by Dr.Sc.Ing Irina Yatskiv and Dr.Sc.Ing. Mihails Savrasovs . The presentation was about the education of specialists working on transport hubs, emphasizing on safety aspects. The results presented, reflect the progress of the ALLIANCE project.