Transport and Telecommunication Institute (TTI) continues to develop its own scientific journal "Transport and Telecommunication" (ISSN 1407-6160, ISSN 1407-6179 online), indexed in 30 international data bases, including Scopus®. According to the latest issue of Scimago Journal & Country Rank, the Journal has demonstrated a significant progress in all rank indicators. Specifically:
SNIP = 1.129
H-index = 7
Percentage of International Collaboration has been significantly increased and now is 40%
Percentile in Engineering (miscellaneous)  category is 63rd (equal to Q2)
Place in Engineering (miscellaneous) journal category is 107rd out of 311.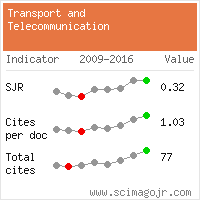 You can see analytically the indicators here!
We would like to thank all of you, for the fruitful collaboration all those years and kindly ask you to promote further our Transport and Telecommunication Journal.