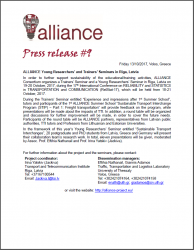 Friday 13/10/2017, Volos, Greece
ALLIANCE Young Researchers' and Trainers' Seminars in Riga, Latvia
In order to further support sustainability of the educational/training activities, ALLIANCE Consortium organizes a Trainers' Seminar and a Young Researchers' Seminar in Riga, Latvia on 19-20 October, 2017, during the 17th International Conference on RELIABILITY and STATISTICS in TRANSPORTATION and COMMUNICATION (RelStat-17), which will be held from 18-21 October, 2017.
During the Trainers' Seminar entitled "Experience and impressions after 1st Summer School", tutors and participants of the 1st ALLIANCE Summer School "Sustainable Transport Interchange Program (STIP) – Part 1: Freight transportation" will provide feedback on the program, while presentations will be made about the impacts of TTI. In addition, a round table will be organized and discussions for further improvement will be made, in order to cover the future needs. Participants of the round table will be ALLIANCE partners, representatives from Latvian public authorities, TTI tutors and Professors from Lithuanian and Estonian Universities.
In the framework of this year's Young Researchers' Seminar entitled "Sustainable Transport Interchanges", 20 postgraduate and PhD students from Latvia, Greece and Germany will present their collaboration team's research work. In total, eleven presentations will be given, moderated by Assoc. Prof. Eftihia Nathanail and Prof. Irina Yatskiv (Jackiva).
For further information about the project and the seminars, please contact:
Project coordinator:
Dissemination managers:
Irina Yatskiv (Jackiva)
Transport and Telecommunication InstituteRiga, Latvia

Tel: +37167100544

Email: Jackiva.I@tsi.lv

Eftihia Nathanail, Giannis Adamos

Traffic, Transportation and Logistics Laboratory

University of Thessaly

Volos, Greece

Tel: +302421074164, +302421074158

Email: enath@uth.gr, giadamos@civ.uth.gr

or visit the website: https://alliance-project.eu/