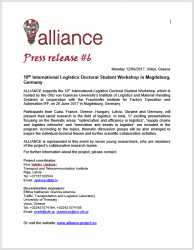 Monday 12/06/2017
10th International Logistics Doctoral Student Workshop in Magdeburg, Germany 
ALLIANCE supports the 10th International Logistics Doctoral Student Workshop, which is hosted by the Otto von Guericke University's Institute of Logistics and Material Handling Systems in cooperation with the Fraunhofer Institute for Factory Operation and Automation IFF, on 20 June 2017 in Magdeburg, Germany.
Participants from Cuba, France, Greece, Hungary, Latvia, Ukraine and Germany, will present their latest research in the field of logistics. In total, 17 exciting presentations focusing on the thematic areas: "optimization and efficiency in logistics", "supply chains and logistics networks" and "innovation and trends in logistics" are included in the program. According to the topics, thematic discussion groups will be also arranged to inspire the individual doctoral theses and further scientific collaborative activities.
ALLIANCE is represented in this event by seven young researchers, who are members of the project's collaborative research teams.
For further information about the project, please contact:
Project coordinator:
Irina Yatskiv (Jackiva) Transport and Telecommunication Institute
Riga, Latvia
Tel: +37167100544
Email: Jackiva.I@tsi.lv
Dissemination managers:
Eftihia Nathanail, Giannis Adamos
Traffic, Transportation and Logistics Laboratory
University of Thessaly
Volos, Greece
Tel: +302421074164, +302421074158
Email: enath@uth.gr, giadamos@civ.uth.gr
Or visit the website: www.alliance-project.eu