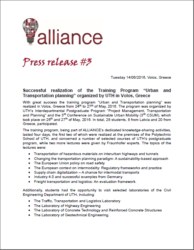 Tuesday 14/06/2016. Volos, Greece
Successful realization of the Training Program "Urban and Transportation planning" organized by UTH in Volos, Greece
With great success the training program "Urban and Transportation planning" was realized in Volos, Greece from 24th to 27th May, 2016. The program was organized by UTH's Interdepartmental Postgraduate Program "Project Management, Transportation and Planning" and the 3rd Conference on Sustainable Urban Mobility (3rd CSUM), which took place on 26th and 27th of May, 2016. In total, 28 students, 8 from Latvia and 20 from Greece, participated.
The training program, being part of ALLIANCE's dedicated knowledge-sharing activities, lasted four days, the first two of which were realized at the premises of the Polytechnic School of UTH, and concerned a number of selected courses of UTH's postgraduate program, while two more lectures were given by Fraunhofer experts. The topics of the lectures were:
Transportation of hazardous materials on interurban highways and tunnels
Changing the transportation planning paradigm: A sustainability-based approach
The European Union policy on road safety
The European context on intermodality: Regulatory frameworks and practice
Supply chain digitalization – A chance for intermodal transports
Industry 4.0 and successful examples from Germany
Freight transportation and logistics: An evaluation framework.
Additionally, students had the opportunity to visit selected laboratories of the Civil Engineering Department of UTH, including:
The Traffic, Transportation and Logistics Laboratory
The Laboratory of Highway Engineering
The Laboratory of Concrete Technology and Reinforced Concrete Structures
The Laboratory of Geotechnical Engineering.
The last two days of the program, May 26-27, 2016, students attended eight selected sessions of the 3rd CSUM, which are relevant to the scope of ALLIANCE. The thematic areas of these sessions were the following:
Green Transportation
NOVELOG "City Logistics in an era of change"
Transportation Interchanges
Activity-Based Transport Modelling
Public Transport and Demand Responsive Systems I
Public Transport and Demand Responsive Systems II
Safety and Security II
Accessibility Analysis.
For further information about the project, please contact:
Project coordinator:
Prof. Irina Yatskiv (Jackiva)
Transport and Telecommunication Institute
Riga, Latvia
Tel: +37167100544
Email: Jackiva.I@tsi.lv
Dissemination managers:
Eftihia Nathanail, Giannis Adamos
Traffic, Transportation and Logistics Laboratory
University of Thessaly
Volos, Greece
Tel: +302421074164, +302421074158
Email: enath@uth.gr, giadamos@civ.uth.gr